While Not Wine Makers...
Three Branches Vineyard LLC is a grower of grape for both the Master Vintner and novice winemaker alike. Located in southern Wisconsin nestled in the Wisconsin River Valley near Spring Green, WI, on loamy clay soils with southern slope to maximize the exposure to the suns rays. Previously farmed in sustainably rise alfalfa for 10 years, the land is ready to grow flavorful grapes.
Family owned and operated

Growers, not winemakers

We produce the grape so the winemaker can make magic.
What's New?
Like Us Facebook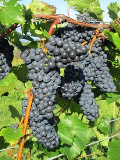 Petite Pearl