Varieties
We have selected varieties that were bred to sustain themselves in the long Wisconsin winters, yet yield the best flavors for the wine maker. If you are interested in a variety that we currently do not produce, we would be happy to discuss your needs.

St. Pepin - White Wine - A sister seedling of LaCrosse but hardier, to around -26 F. This variety is pistallite, meaning that it has only female flowers and must be planted near other varieties to ensure proper fruit set. It should be pruned to a high bud count to make sure there is adequate fruit production. Small berries are formed on medium loose clusters. Ripens mid season to about 20 brix and 1.0% total acidity. One row of St. Pepin next to one row of another variety will do well. Excellent wines have been made from St. Pepin as a varietal and also blended with LaCrosse. When well ripened, fruit quality is similar to Reisling. Selected by Elmer Swenson.


St. Croix - Red Wine - Hardy to -32 F or better. Good resistance to powdery mildew and black rot. Many award winning wines have been made from St. Croix. Vinifera-like, with good fruit and low tannin. Achieves 18-20 brix with moderate acidity. Ripens mid season. Also makes a suitable seeded table grape. Selected by Elmer Swenson the St. Croix grape variety grows well in the southwest and central regions of the state. This American wine varietal produces medium and large bunches of small berries. The grape's juice has a low acid content and a pale rose color suitable for making wine. Mature grape vines ripen in mid-September.

LaCrosse - White Wine - Hardy to -25 F. Vigor and disease resistance are moderate. Sugar content of 19-21 brix. Good variety wines have been made in a dry and semi-dry style and are clean, fruity, with good acidity. This is one of the leading white wine varieties in some upper mid-western states. Ripens late season. Selected by Elmer Swenson the La Crosse varietal is a white Swenson-hybrid. It's considered a good variety for making sweet wines. It grows well in the southwest and central regions of the state. The grape ripens in mid-September. Researchers with the University of Wisconsin recommend this grape for trail plantings.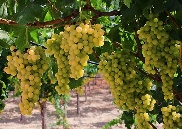 Edelweiss -White Wine - White seeded table, wine and juice grape. Hardy to -30 F. Excellent disease resistance and adaptability. Has a pleasing labrusca flavor, which becomes more pronounced the longer it hangs on the vine. While mostly a table and juice grape, some very popular sweet wines have also been made. Ripens early season. Selected by Elmer Swenson this grape produces a wine similar to dry Riesling or a sweet table wine. It has aromas of honey, pear, and sweet peach.

Frontenac - Red Wine - Introduced in 1995, Frontenac is the first in a series of new wine grape varieties developed by the University of Minnesota for Upper Midwest conditions. A cross of V. riparia 89 with the French hybrid Landot 4511, Frontenac combines many of the best characteristics of each parent. Frontenac is a very cold hardy vine and has borne a full crop after temperatures as low as -30 F. It is also a very disease resistant variety with good resistance to powdery mildew and near-immunity to downy. Initially acids are high, but often drop dramatically late in the season. Fortunately, the pH does not often rise to dangerous levels. When grown in colder area the berries must be left on the vine long enough to mature fully. It produces only a moderate number of tendrils, which facilitates vine management.


Marquette - Red Wine - Marquette is a cousin of Frontenac and grandson of Pinot noir. It originated from a cross of MN 1094, a complex hybrid of V. riparia, V. vinifera, and other Vitis species, with Ravat 262. Viticulturally, Marquette is outstanding. Resistance to downy mildew, powdery mildew, and black rot has been very good. Its open, orderly growth habit makes vine canopy management efficient. Marquette's high sugar and moderate acidity make it very manageable in the winery. Finished wines are complex, with attractive ruby color, pronounced tannins, and desirable notes of cherry, berry, black pepper, and spice on both nose and palate. As a red wine, Marquette represents a new standard in cold hardy viticulture and enology.

Concord - Juice - Concord grapes are often used for juice and jelly, but they make great table grapes, too. They are deep purple - almost black - and will stain anything they can, so consider yourself warned! Concord grapes are a deep blue-black color, large, and extremely sweet. Concords are native to North America and part of a group of grapes known as "slip skin" grapes. The skin slips easily off the flesh, yet the flesh and seed cling tightly to one another.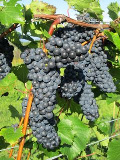 Petite Pearl - Red Wine - This new red wine variety was bred by the esteemed Minnesota viticulturist and author, Tom Plocher. While this variety was just released in 2010 for commercial planting, it has been evaluated in test plantings since it was bred in 1996. Considered fully hardy, producing a full crop after -32F. Vigor is moderate with an open trailing growth habit suitable to high wire training. Bud break is later than any other fully hardy variety. Ripens about 10-20 days after Marquette to around 24 brix and 7-8 g/l acidity. Early wines have been very complex with lots of spice, attractive earthy aromas and jammy fruit. Substantial tannins for a fully hardy grape and a long finish. This may be an excellent blending component to add complexity and softness to most northern red wines. Can also stand on its own.